Enter Inventory, Receipts, and Hours worked on a task
Step 1:
Complete each of the 4 tabs. Only fill out what is applicable (e.g. if you don't have any additional receipts or notes, don't worry about filling these out).

INSTRUCTIONS FOR ENTERING INVENTORY
1. Select +Inventory.


3. Complete the following fields: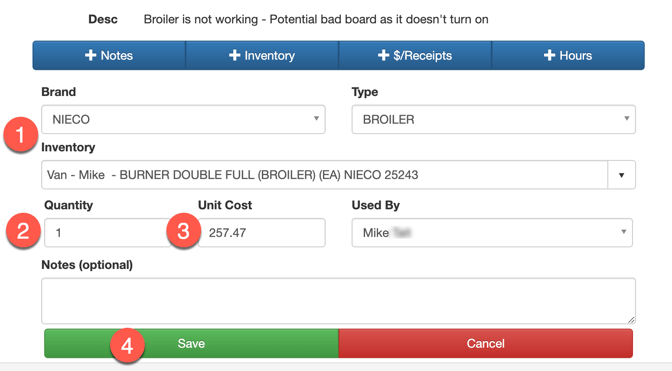 Select the correct piece of inventory by using the filters for Brand, Model, or Manual search by part number.
Add the quantity used.
Check that the cost is correct.
Remember to click SAVE after each item you add.
3. If multiple inventory parts were used, repeat this process by selecting the +Inventory button again until all inventory is added.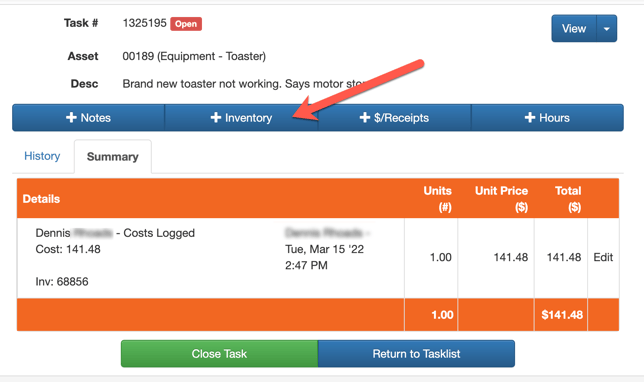 INSTRUCTIONS FOR ADDING HOURS

1. Select +Hours.

2. Complete the following fields.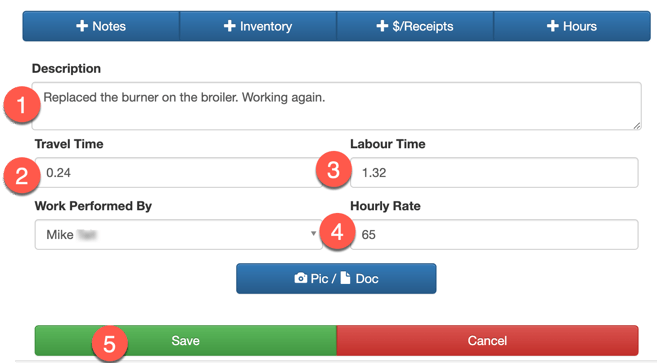 Provide a description of the work that was completed.
Travel Time: This will automatically populate based on when you last checked-out of your previous task.
Labor Hours: The time will automatically populate based on the time you checked in and filling out the hours.
** You have the ability to override the Travel Time and Labour Time if it is not accurate.
4. The Default Hourly Rate auto-appears as set up by administrator.
5.
Save